Recently, we started creating ozonated oils in house, to control the production and make sure you get the best possible results.  We've been able to implement some of the changes our customers have been requesting and can now offer the best quality oils at the best prices.  You asked for glass packaging, so our oils are now available in two ounce blue glass jars.  Special order sizes are available upon request.  In addition, we now offer ozone suppositories.  We're convinced you'll be as pleased with our new PurO3 Ozonated Oils as we are.
In case you're not familiar with what ozonated oil can do, we've put together a brief history and some of the many benefits our friends and customers have noticed.
A brief history of ozonated oils
Ozonated olive oil was discovered quite by accident in the early 1900s, when breathing ozone through oil was used to treat tuberculosis.  After many treatments the olive oil turned into a gel and seemed to hold ozone for a long time, making it a great salve used for a variety of ailments (1).  Famous inventor Nikola Tesla was the first to market it, and as early as 1904 it was being sold in pharmacies all over the country under the name Glycozone (2).
Ozone therapy and the use of ozone oils was flourishing in the United States in the early to mid 1900s, but like many natural remedies of the time its chemical competitors tried to discredit it.  With the advent of antibiotics and new drug therapies, pharmaceutical salesmen pushed their drugs as the new way to treat diseases.  The FDA became the bully pulpit for drug companies, going so far as to outlaw ozone therapies for use by medical doctors.
Now, however, ozone therapy is making a huge comeback.  In fact, ozone is used in over 20 countries in hospitals and clinics and ozonated oils are being researched around the world (3).
What can ozonated oil do for you?
Ozonated olive oil is a gel that can last for 10 years if kept refrigerated or around one year at room temperature.  It is known to destroy bacteria, viruses, fungi, some parasites, venoms and poisons through oxidation, and helps stimulate new cell production through oxygenation. Doctors have reported that ozonated oil speeds the postoperative healing process by improving blood flow, reducing inflammation, preventing infection and reducing pain.
Ozonated olive oil has been used for over 100 years to help treat the following:
| | | |
| --- | --- | --- |
| Acne | Athlete's Foot | Bacterial Infections |
| Bed Sores | Blackheads | Bruises |
| Carbuncles | Cold Sores | Cuts and Wounds |
| Dandruff | Dermatitis | Eczema |
| Diaper Rash | Fungal Infections | Impetigo |
| Insect Bites | Fistulae | Gingivitis |
| Herpes Simplex | Hemorrhoids | Leg Ulcers |
| Shingles | Sunburn | Ringworm |
| Psoriasis | Wrinkles | Age Spots |
| Spider Bites | Burns | And more… |
Ozonated Jojoba Oil is less common but rising in popularity.  We decided to produce it because one of our customers enlightened us to the amazing anti-aging qualities of the oil.  Jojoba's chemical makeup is very close to human sebum, making it very desirable as a skin cream.  It becomes a creamy gel when ozonated, and we're using it here for anti-aging, beauty and dry skin and we absolutely love it.
Ozonated Sunflower Oils have also become a lot more popular recently because of availability and cost.  It is like a thick, viscous liquid, making it more suitable in situations where a liquid is preferred to a gel.  Extensive research is being done on this oil in Russia and Cuba.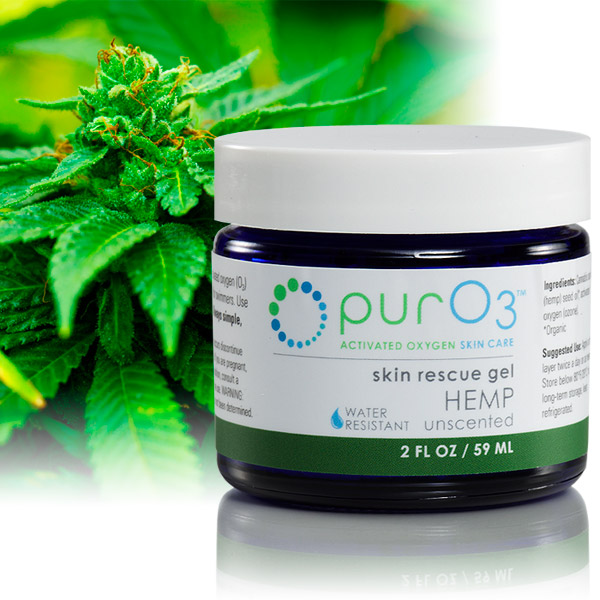 We also now offer ozonated hemp, avocado and coconut oils.
Because they contain no artificial chemicals, ozonated oils are far safer and more desirable than their drug counterparts, as they not only treat the condition but also stimulate immune cell production with no serious side effects.  And unlike many antibiotics, the effectiveness of ozone oils won't decrease over time as viruses, fungi and bacteria won't become resistant.
How we make our ozonated oils
We use a cold plasma, high output ozone generator to create our ozone oils.  This is not your typical high output generator.  Most high output ozone generators produce heat upwards of 250 degrees, but our machine produces cool ozone.  With a cold plasma generator the integrity of the oil stays intact, making for a higher quality product.  Medical oxygen is used in the production process.  This eliminates the chance of harmful nitric oxides entering the oil.  This is why it is important to always use a pure oxygen source when making ozonated oil.  Once the oil is fully saturated with ozone we pour it into jars right away and then store it in the refrigerator until we send it to customers.  The result is the freshest, purest, fully ozonated oil you can get.
Some testimonials from Promolife and our customers
"I have a Chihuahua that has had a rash for three years.  The veterinarian kept telling me there was nothing to do but give him a cortisone shot every month.  He said it is an allergic reaction to flea bites.  The rash was all around the dog's neck, it was red and itchy and he scratched it so much it just made it worse.  I put ozonated jojoba oil on it and within a couple of days it was noticeably better.  I continued to apply it nightly.  It drastically reduced his itching the first night.  Within a few days the rash was almost completely gone.  Now whenever I notice him scratching too much I just dab a little on him.  I am beginning to suspect it was a fungus causing the rash and not fleas."  – Kathy
"Ever since moving to Arkansas, every summer I've been plagued with chigger bites.  For those who have never heard of chiggers, they are invisible to the naked eye and burrow into your skin, secreting a poison forming a welt that itches for two to three weeks.  The itching keeps you up at night and drives you close to insanity.  It can take 12 to 24 hours before you even know you've been bitten.  Recently, I decided to try ozone oil on my bites.  Much to my ecstatic surprise it took care of the itch almost immediately and reduced the swelling and helped heal amazingly fast.  Hurrah!  I use it on all my bites and wouldn't be without.  I've tried many concoctions and this works the best.  Also, I've been noticing my age spots are diminishing in size since using ozonated jojoba oil for only one month."  – Yvonne
"I tend to have eczema breakouts on my hands during periods of high stress.  I discovered that by putting ozonated olive oil on the breakouts immediately, they clear up very quickly.  Since then I've started using small amounts of ozonated jojoba oil on the areas and haven't had another breakout.  Plus it makes the skin on my hands smoother."  – Christy
"I got this [ozonated olive oil] for my wife's staph infection/MRSA and we were both very skeptical at first as other treatments didn't work very well and when antibiotics did work the side effects were not good. This Ozonated Olive Oil has worked wonders on both my wife and sister. My sister had an unidentified skin irritation for six weeks. She was about to see a Doctor but canceled the appointment because after one application of the product it almost completely went away overnight. Now we use it on everything from cat scratches to scars. It works wonders even on stubborn infections. We definitely would recommend it to other people and it is worth the money." – Andrew
"I really like the product. I use it each night before bed and each morning under makeup. My Mother had a skin burn and I had her put it on the burn and she healed quickly. Thank you for the product." – Melinda
How to get ozonated oils
If you are interested in ozonated oils, you can find out even more information by visiting our PurO3 Ozonated Oils site.  If you'd like to distribute ozonated oils, please call us at 888-742-3404 or email distributors@puro3.com.
---
Article References
1.  http://www.ozonetherapy.co.uk/articles/ed_mccabe_ozone_history_and_references.htm
2.  http://truthquest2.com/medicalozoneforinfection.htm
3.  http://www.ateramex.com.mx